Monday morning at the Public Works Committee meeting at City Hall. The special ceremony acknowledged four HSR operators who have achieved 30 years of safe driving and one operator who has reached the 35-year milestone. Reaching this safe driving milestone means that these operators did not have any preventable collisions for 30 and 35 years respectively.

To put that into context, HSR operators drive a bus for an average of nine hours per day, five days a week and for 46 weeks a year. It's estimated that a typical HSR operator drives some 40,000 km a year. That means, to receive a 35-Year Safe Driving Award, one has driven 1.4 million km without a preventable collision. That is like driving from Hamilton to Vancouver 350 times!

Transit director Don Hull and Superintendent of Operations Keith Andrews were on hand to present the safe driving awards with Councillor Lloyd Ferguson.

- Jagtas Singh (35 years)
- Harminder Sandhu (30 years)
- Gord Nash (30 years)
- Vijay Sareen (30 years)
- Laurent Shand (30 years)


Jagtar Singh accepting his award.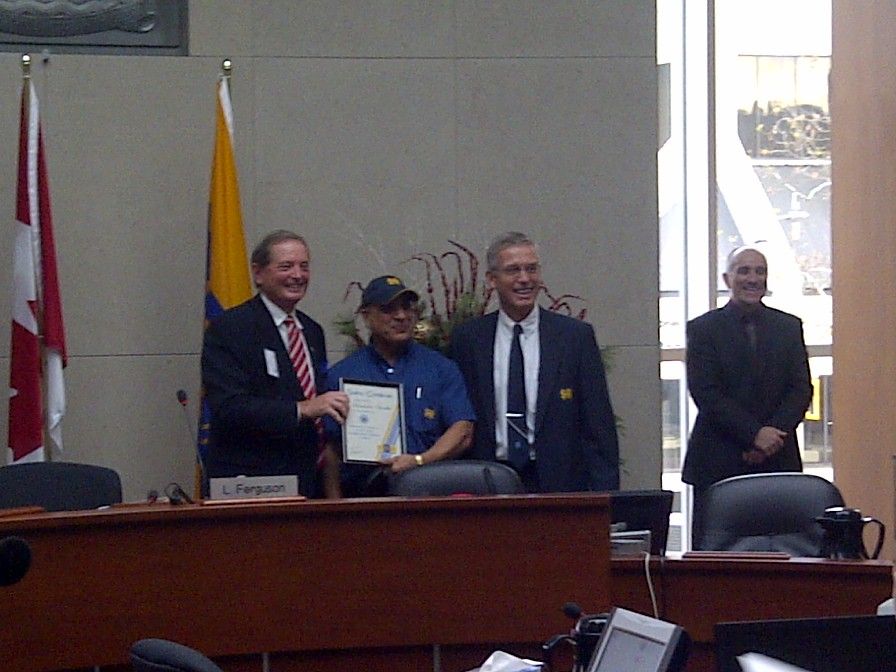 Harminder Sandhu accepting his award.
Laurent Shand accepting his award
Gord Nash and Vijay Sareen were unable to attend Monday's ceremony.